The Pink Sheep Wiki
 is a Wiki about the 
Pink Sheep
, 
his channel
 and all of his friends and family. It was founded by UnknownBlock, with the burecrauts and admins being Chase McFly and UnknownBlock.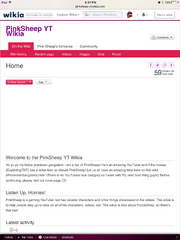 LINK: http://pinksheep-yt.wikia.com/wiki/PinkSheep_YT_Wikia
Home Page Description
Yo yo yo my fellow prankster gangsters! I am a fan of PinkSheep! He's an amazing YouTuber and if the mouse (ExplodingTNT) has a wikia then so should PinkSheep! Let us all have an amazing time here on this wiki! #PranksterGangstersUnite! (There is no YouTubers hub category so I went with TV, next best thing guys!) Before continuing, please visit our rules page: [1]
Ad blocker interference detected!
Wikia is a free-to-use site that makes money from advertising. We have a modified experience for viewers using ad blockers

Wikia is not accessible if you've made further modifications. Remove the custom ad blocker rule(s) and the page will load as expected.