Villages
are locations in the 
Overworld
. They are the places where 
villagers
dwell.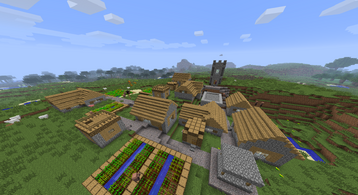 Appearance
Villages are small groups of houses, connected with gravel paths. They usually contain a church, a blacksmith house, and a few houses, either big or small. They are usually heavily populated with villagers, who walk around and give horrible trades to players.
Usage
Villages are usually shown in Villager-centered scenes and videos as their home. Players often grief the villages and abuse their inhabitants, but the villagers are very organized. There are many hidden rooms and paths below the surface of villages, as seen in What Emeralds are REALLY Used For, If Notch was Kiddnaped by Villagers and multiple other videos and scenes. Villagers often hide in the house from evil zombies, but they often jump into one and only house, and then explode out of the door in the morning. Villagers are often shown farming on the small farms locted on the outskirts of villages, but players often steal the crops and leave.
Ad blocker interference detected!
Wikia is a free-to-use site that makes money from advertising. We have a modified experience for viewers using ad blockers

Wikia is not accessible if you've made further modifications. Remove the custom ad blocker rule(s) and the page will load as expected.